FWD FRONT WHEEL BEARING TOOL
| | |
| --- | --- |
| NO: | SAT-501/501B/501C |
| Specifications: | FRONT WHEEL BEARING |
| Description: | FWD FRONT WHEEL BEARING TOOL |
FWD FRONT WHEEL BEARING TOOLS
Specifications:
Item No. SAT-501
* A great tool used to replace front wheel bearings without removing the steering knuckle & strut assembly.
* As the spindle assemble isn't removed there is no need to align front end after the job is done.
* Fit on most cars.
* Could be worked with shop press also.
Item No. SAT-501B
* Up-to-date kit for the installation and removal of front hub bearings without the need to dismantle the steering knuckle and strut assembly. Fast and simple to use. Suitable for most front wheel drive cars. Heavy-duty steel drifts with black phosphate finish for corrosion resistance. May be used with impact wrench. Supplied in carry case.
* Drift Sizes: 55.5, 59, 62, 65, 66, 71.5, 73, 78, 84, 86, 91mm
* Hub Screws (3pcs Each): M12x1.5, M14x1.5mm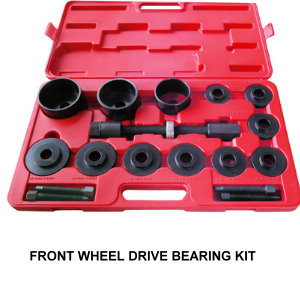 Item No. SAT-501C
Up-to-date kit for the installation and removal of front hub bearings without the need to dismantle the steering knuckle and strut assembly. Fast and simple to use. Suitable for most front wheel drive cars. Heavy-duty steel drifts with black phosphate finish for corrosion resistance. May be used with impact wrench. Supplied in carry case.
Drift Sizes: 55.5, 59, 62, 65, 66, 71.5, 73, 78, 84, 86, 91mm