Per Wikepedia, the screw extractor was invented in 1940s by a Mr. Hanson in USA.
A screw extractor is a handy tool being used for removing expressly the broken or seized screws.
There are two types:
1) Spiral fluted extractor:
A spiral screw extractor is itself a coarse-pitched tapered screw thread, so called Easy Out.
They are left-handed, for use on right-handed threades.
The screw is first drilled out to the proper diameter for that extractor. The extractor is then inserted into the hole and turned counter-clockwise using a tap wrench.
As the extractor is turned the flutes on the tool dig into the screw, pushing it to lock tightly and apply enough torque to remove the screw.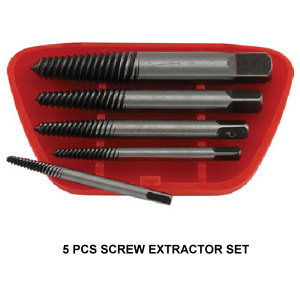 2) Straight fluted extractor
Straight fluted extractors come into a kit set. The screw is drilled out with the matched drill
and drill bushing. The extractor is then hammered into the hole with a brass hammer, avoid
using still hammer which will possibly break the extractor. The appropriate special nut is
firstly attached to the end of the extractor. The nuts can then be turned with a wrench to remove
the screw.